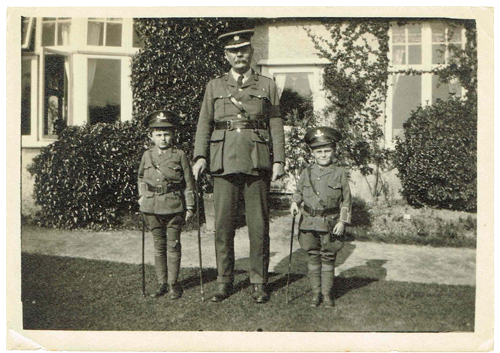 The Conan Doyle Estate has been following the journey of Philip Abbott as he raises awareness of Arthur Conan Doyle in his campaign for Body Armour. Philip was in touch with us in March this year to gain access to some images to add to his exhibition for which he very kindly credits the Conan Doyle Estate. Philip has not only got the exhibition up and running and on tour with the help of a grant, he has also written a book 'Saving Lives'.
The family value greatly their Great-Uncle's campaigning spirit and dedication to the rights of others - which is discussed in a film made with Richard Doyle. See HERE. The Estate also reveals documentation, letters and photography from their insider perspective of 'The Man' as a Campaigner HERE.
Saving Lives, a book by Philip Abbott
Inspired by a collection of letters received by Sir Arthur Conan Doyle during the First World War, Philip Abbott sets out to explore the campaign to provide body armour to British soldiers serving in the trenches.

Setting the letters in the context of the terrible losses suffered during the Battle of the Somme, Abbott reveals the actions of the War Office and Ministry of Munitions in providing better protection for the troops.

He examines Conan Doyle's personal motives for involvement, and investigates the part played by another Edinburgh graduate, Caleb Saleeby, in promoting the development of helmets, body armour and shields.

Saving Lives is an absorbing account of how the creator of Sherlock Holmes used his fame to campaign against the horrific casualties on the Western Front.
Reviews
'This account of Conan Doyle's campaign to protect soldiers, particularly after the horrors of the Somme, shows the surprising compassion of one of Britain's best known writers. It is a most compelling read.' General the Lord Dannatt GCB CBE MC DL

'By exploring Sir Arthur Conan Doyle's largely unknown efforts, Philip Abbott reveals an important and overlooked chapter in the rebirth of modern body armour – a story that continues to unfold in conflict zones around the world today.' -- Donald J. La Rocca, Curator, Department of Arms and Armour, The Metropolitan Museum of Art

'A fascinating and superbly researched connection between a beloved author of fiction and the brutal reality of industrial warfare' -- Jonathan Ferguson, Curator of Firearms, Royal Armouries
Royal Armouries Source.
Published: 22nd August 2017