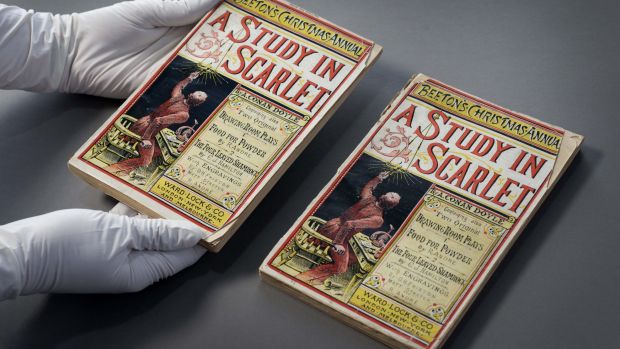 The weekend Wall Street Journal's splendid Review section carries as part of its book reviews a "Five Best" series, in which a writer, on a literary theme of his or her choice, picks and discusses five books he or she feels significant. This weekend it was Anthony Horowitz, the literary theme he chose was Revenge, and one of the five books he discusses is A Study in Scarlet.
A dead body has been found in an abandoned house in Lauriston Gardens, London. "On his rigid face there stood an expression of horror, and, as it seemed to me, of hatred, such as I have never seen upon human features," the narrator tells us. There is a clue. A single word has been scrawled on the wall in blood red letters: RACHE. The hapless police inspector is certain that someone was trying to write "Rachel" but was disturbed before they could finish-and it is left to the consulting detective who has been called to the scene to point out that Rache is the German word for revenge. So begins a crime story that might seem unremarkable and poorly structured. Much of the second part is set in Utah and feels oddly disjointed. But the detective is Sherlock Holmes, the narrator is Dr. Watson, and this of course is the book that introduced them to each other. It is the first modern detective story. "I know well that I have it in me to make my name famous," Holmes tells Watson. He is very quickly proved right.
Credit to The Wall Street Journal Source.
Published: 9th June 2017