28 October, 2019
Richard Doyle Moves Back Home..

...Only briefly of course! 
As part of the Estate's launch collateral and support for Guomai Culture & Media Co's - The Complete Sherlock Holmes - Richard Doyle, Arthur Conan Doyle's Great Nephew has filmed a short media clip. The short film is to grant the family Estate's approval and to voice admiration for the attention to detail on the Chinese translation. 
Guomai are using the film in their marketing and press to a Chinese audience - sharing that all important and authentic family link directly back to Arthur Conan Doyle himself.
Location Matters
We filmed Richard's piece to camera at The Pig in the beautiful New Forest village of Brockenhurst. The Pig is an incredibly beautiful clutch of country houses that are award winning Restaurants with Rooms with a huge passion around their kitchen gardens and home-grown and local produce. 
As well as being the perfect aesthetic - The Pig in Brockenhurst was an incredibly poignant place for us to film - as Richard and his sister Catherine Ruml Doyle - Arthur Conan Doyle's Great Niece grew up in the building - before it was home to The Pig. 
Richard has some incredible stories of the time his family spent in this rambling country home. For us to be able to take the time to film Richard with Guomai's books in a place that meant so much to Richard was incredibly special. 
We would like to extend sincere thanks to Lotti and Tara from The Pig who granted us access to quiet corners of The Pig and made this experience so effortlessly pleasing!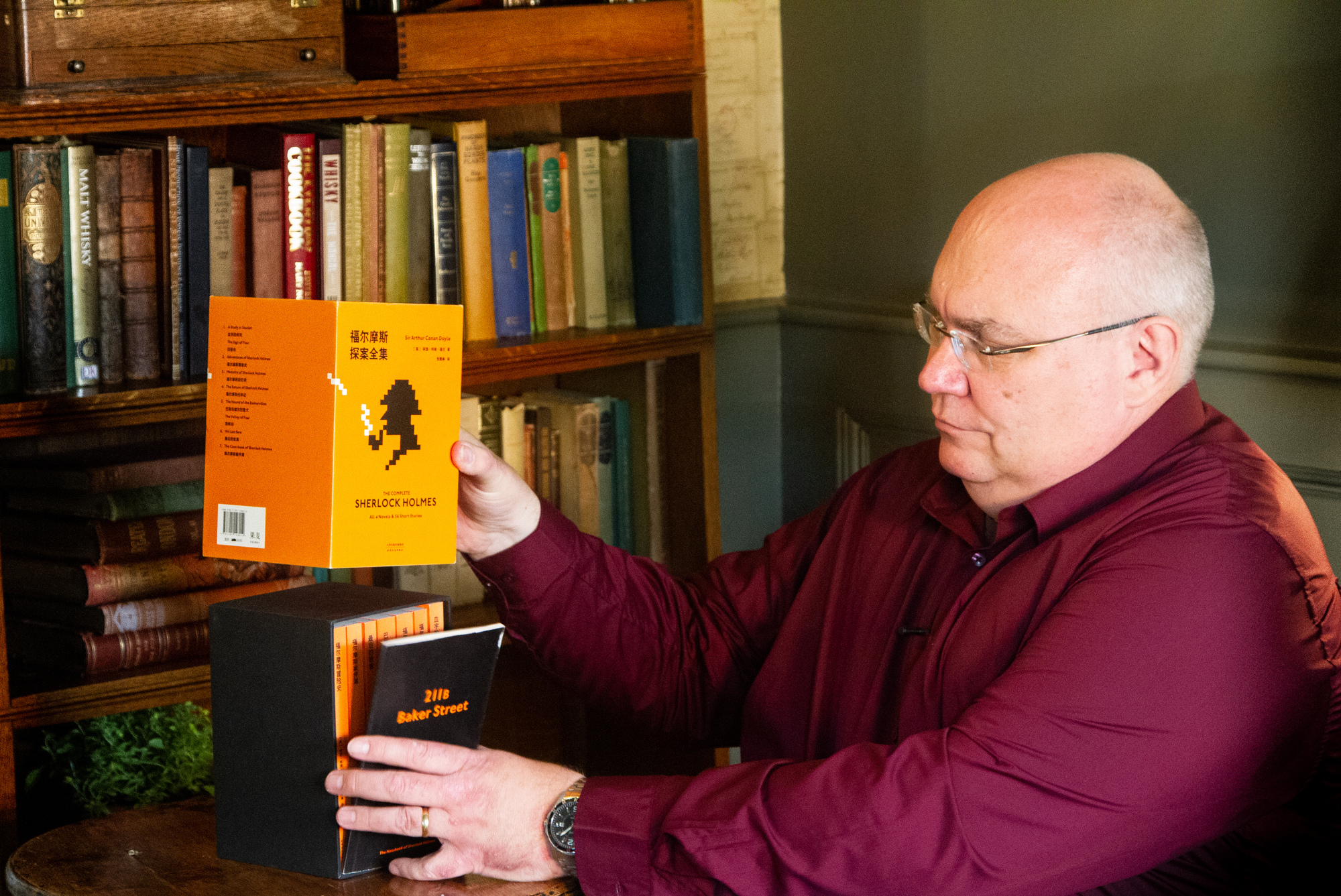 Guomai Culture & Media Co Ltd 
One of The Conan Doyle Estate's latest licenses is with Guomai Culture & Media Co Ltd - a pioneering Chinese publisher in classical and contemporary literature. They have just released an impeccably translated version of  Arthur Conan Doyle's great works - The Complete Sherlock Holmes - which has been authenticated by The Conan Doyle Estate. 
In our joint pursuit of authenticity, quality and proven provenance  - we also granted Guomai access to manuscripts and letters from the archive of The Conan Doyle Estate to use within the complete works - to add prestige, historical relevance and a fascinating kudos. 
The Conan Doyle Estate x Guomai Culture & Media Co Ltd - Read More